Great Lakes Cheese Joins National Movement to Turn Food Waste Into Renewable Energy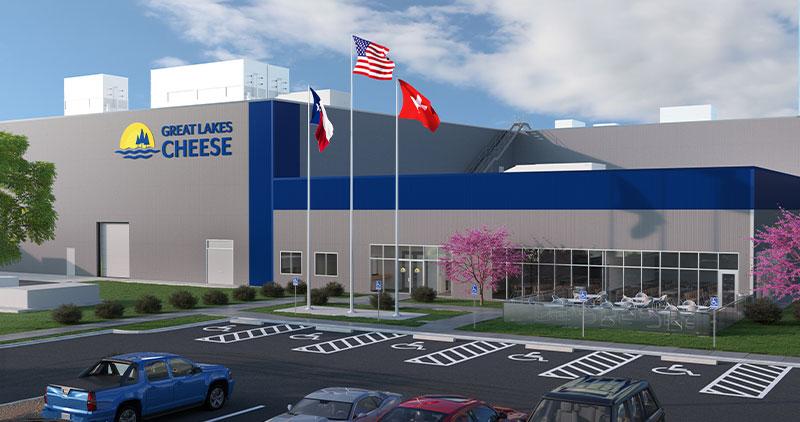 Great Lakes Cheese is the latest company to join the Farm Powered Strategic Alliance founded by Vanguard Renewables, Unilever, Starbucks, and Dairy Farmers of America
Vanguard Renewables is announcing that Great Lakes Cheese has joined the Farm Powered Strategic Alliance, a collaborative movement to boost food waste recycling and expand renewable energy production across America. The Alliance was founded in 2020 by Vanguard Renewables, Unilever, Starbucks, and Dairy Farmers of America and now has grown to include 15 U.S. food industry leaders.
Great Lakes Cheese is headquartered in Hiram, Ohio with nine processing plants spread across Ohio, Wisconsin, New York, Utah, Tennessee, and Texas. The company was founded in 1958 by Swiss immigrant, Hans Epprecht and remains a family- and employee-owned business with over 4,000 employees supplying cheese across the United States.
Great Lakes Cheese has pursued win-win solutions for its people, products, and planet. The company has committed to increasing renewable energy supply beyond its current sourcing of solar and hydropower, has actively partnered across the supply chain and internally to address plastic waste, and has reduced water consumption at their flagship location in Hiram, OH by as much as 10,000 gallons per day.
The Farm Powered Strategic Alliance, named one of Fast Company's 2021 World Changing Ideas, includes Unilever, Starbucks, Dairy Farmers of America, Vanguard Renewables, Stonyfield Organic, Cabot Creamery, Smithfield Foods, Food Tank (a leading NGO), Chobani, Kikkoman, Schreiber Foods, Hillebrand, Polar Beverages, Vermont Creamery, Johnsonville, and now Great Lakes Cheese. The Alliance offers U.S. food manufacturers and retailers a circular approach to reducing the detrimental environmental impacts of CO2 emissions and provides a pathway toward a carbon-neutral footprint.
Further, members of the Farm Powered Strategic Alliance commit to diverting their organic food waste from the manufacturing process to one of Vanguard's on-farm anaerobic digesters where it is recycled with dairy cow manure via anaerobic digestion to create renewable natural gas (RNG). Members are also given the opportunity to purchase the RNG produced for their facilities.
To learn more about the Farm Powered Strategic Alliance, visit the FPSA website.
About Great Lakes Cheese
Great Lakes Cheese is an award-winning, premier manufacturer and packager of natural and processed bulk, shredded, and sliced cheeses. The country's largest natural cheese packager, Great Lakes Cheese serves grocery, club, and super stores, as well as restaurant chains and foodservice distributors. The company has a national footprint with facilities in Ohio, New York, Tennessee, Utah, Wisconsin, and Texas. Family- and employee-owned, Great Lakes Cheese celebrated their 60th year of business in 2018. To learn more about Great Lakes Cheese, visit www.greatlakescheese.com.
About Vanguard Renewables
Vanguard Renewables, based in Weston, Massachusetts, is a national leader in developing food and dairy waste-to-renewable energy projects. The Company owns and operates on-farm anaerobic digester facilities in the northeast and currently operates manure-only digesters in the south and west for Dominion Energy. Vanguard Renewables plans to expand nationwide to more than 150 anaerobic digestion facilities by 2026. Vanguard Renewables is committed to advancing decarbonization by reducing greenhouse gas emissions from farms and food waste, generating renewable energy, and supporting regenerative agriculture on partner farms via Farm Powered® anaerobic digestion. Vanguard Renewables is a portfolio company of BlackRock Real Assets.