AstraZeneca to leverage its global industrial-scale manufacturing and digital capabilities to boost US renewable natural gas productivity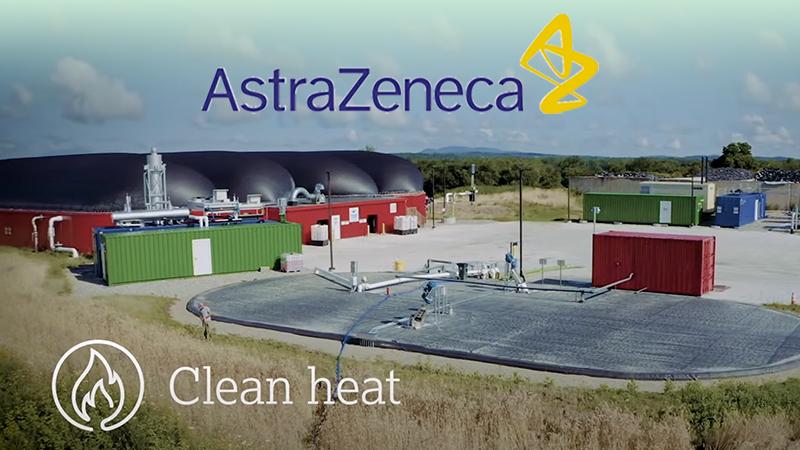 Expanded collaboration with Vanguard Renewables aims to significantly increase the productivity of US renewable natural gas generation
More efficient production would aim to accelerate parity for renewable natural gas and advance the transition to clean energy
AstraZeneca (AZN) is leveraging its global industrial-scale manufacturing and digital capabilities to boost US renewable natural gas (RNG) productivity through a planned expanded collaboration with Vanguard Renewables. With an ambition of achieving a multiple fold increase in productivity, the collaboration aims to accelerate parity with fossil fuel-generated natural gas.
Drawing on AstraZeneca's global manufacturing, supply chain, digital and scientific expertise, the companies plan to work together to increase RNG yield and generate a step change improvement in the production of RNG. Technological improvements and enhanced production can increase access and cost-effectiveness of RNG, a current barrier to widespread renewable energy deployment. The collaboration also aims to add RNG capacity to the US power grid and build capabilities in sustainable innovation for broader public benefit.
Starting with three priority areas, the collaboration will pursue capacity and design improvements to Vanguard Renewables' Farm Powered® process via innovative controls and chemistry to more quickly produce RNG using farm-based anaerobic digestion (AD) from food and farm waste; it also aims to develop Digital Twins for the AD process to enable rapid experimentation and modeling including the potential integration of artificial intelligence (AI); and thirdly aims to enhance supply chain robustness to scale manufacturing and supply.
This announcement builds on the sector-first collaboration announced in June between AstraZeneca and Vanguard Renewables to deliver RNG to all of AstraZeneca's US research and manufacturing sites by the end of 2026.
Anaerobic Digestion
Inedible or unsaleable food and beverage waste from the manufacturing and retail sectors is collected, sorted, depackaged on-site, and combined with dairy farm manure in a sealed biodigester tank. Once combined in the biodigester, microorganisms that naturally occur in manure digest the waste, converting sugars, fats and other compounds into biogas. Harnessing the waste's energy captures as much as 95 percent of the potential greenhouse gas emissions that would result if food and beverage waste were sent to a landfill or if the farm manure were field-applied. The process produces RNG that is upgraded to pipeline-quality gas and injected into the existing pipeline infrastructure on-site, displacing traditional fossil fuels. The biogas is then used for heating and cooling or can be used to make Compressed Natural Gas (CNG) for vehicles. The by-products of the anaerobic digestion process include a low-carbon and nutrient dense fertilizer (digestate) that reduces the farm's dependency on chemical fertilizers, and a dry by-product which is used for animal bedding. When food and beverage manufacturers send their organic waste to a Farm Powered site and purchase the RNG created by their waste to power their plants, they are creating a closed-loop solution that helps to address Scope 1 and 3 emissions in their business practices.
About AstraZeneca
AstraZeneca is a global, science-led biopharmaceutical company that focuses on the discovery, development and commercialization of prescription medicines in Oncology, Rare Diseases and BioPharmaceuticals, including Cardiovascular, Renal & Metabolism, and Respiratory & Immunology. Based in Cambridge, UK, AstraZeneca operates in over 100 countries, and its innovative medicines are used by millions of patients worldwide. For more information, please visit www.astrazeneca-us.com and follow us on social media @AstraZeneca.
About Vanguard Renewables
Vanguard Renewables, based in Weston, Massachusetts, is a national leader in developing food and dairy waste-to-renewable energy projects. The Company owns and operates on-farm anaerobic digester facilities in the northeast and currently operates manure-only digesters in the south and west for Dominion Energy. Vanguard Renewables plans to expand nationwide to more than 150 anaerobic digestion facilities by 2026. Vanguard Renewables is committed to advancing decarbonization by reducing greenhouse gas emissions from farms and food waste, generating renewable energy, and supporting regenerative agriculture on partner farms via Farm Powered® anaerobic digestion. Vanguard Renewables is a portfolio company of BlackRock Real Assets. To learn more visit www.vanguardrenewables.com